Location: Yume Butai-Awaji Island
Land area: 85,000 m2
Lagoon area: 21,000 m2
Use: shopping (140 units) hotel (75 double rooms, 75 suite rooms)
Area features: Botanic garden, Westin Hotel event hall
Merit: close to Kobe, Osaka. Easy access from highway interchange. Possible connections via boat/helicopter to
KIX, Kobe airport, Kobe touristic port. In the close future cater to visitors of Osaka IR, World Expo 2025.
Cost of land: 20 million USD
Cost of building 180,000 m2 @ 7500 USD/m2 = 135 million USD
Cost of exterior space: lagoon 5acres x 1.5 = 7.5 million USD + landscaping 2.5 million USD
Consulting/planning fees: 10 million USD
Operative margins: 30 million USD
Total value of project: 205 million USD
---
Amount of visitors to Awaji that potentially could visit also the Project: 12,000 cars daily
E28 Kobe Awaji
Naruto Highway
daily traffic (average)
Year:
2016
2017
2018
Awaji br.
36,600
37,084
37,223
Naruto br.
24,820
24,983
25,133
(source: Honshu-Shikoku highwayhttps://www.jb-honshi.co.jp/corp_index/company/data/traffic.html)

Background.
Yume Butai (literally "Dream Stage") is a plot of land partly owned by Awaji city and partly by the Hyogo prefecture
special development department. (Third sector).
The area was used to excavate soil for the landfills of the large artificial islands of Port Island, Rokko Island, and Kansai Airport in the 1980`s and 1990`s.
To requalify this area the prefectural government created a botanic garden open in year 2000 (which contains some famous buildings by Tadao Ando) and a hotel complex (operated by Westin) which includes a conference center and was also used as the seat for the 2006 G7 medical ministers convention.
Some areas have already been privatized to some 3 warehouses (steel parts manufacturers, mixing machine manufacturer), one hospital, one convenience store, and one Kindergarten.
The city developed a blueprint for a mixed-use including residences and recreation facilities but there is no concrete lien. The infrastructures include completely buried electric cables (very rare in Japan), sewers, and water supply.

Location
200 meters from the Highway tollgate, it is about 30-35 minutes by car from Kobe and 1 hour from Osaka.
It can be reached also by a public bus service from Kobe (the bus stop is on the perimeter of the lot).
If could be reached by boat from Kobe Airport (about 30 min.), Kobe Harbourland touristic port (40 min) or from
Kansai Airport (45 min.) and by helicopter in 3-5 minutes from Kobe or Osaka locations.
Yume Butai is facing Osaka bay and on a fine day, it is possible to see all the perimeter of the egg-shaped bay from Wakayama city to Kobe.
The Kei-Hanshin region (Kyoto-Osaka-Kobe) has a population of 19 million people within a 90minutes drive from the location.
A marketing study (visitor estimate) is available upon request.

Opportunity 1 (hotel)
After Dubai 2020, the next World Expo will be hosted by Osaka in 2025. The area that will be used for the expo (Yumejima) is right
across the bay. There are only 13 five-star hotels in Osaka. All are city hotels and none has special security or exclusivity characteristics to appeal VIP guests. Creating a five-star hotel in Yume Butai with an exclusive helicopter connection to the airport and the expo can be a unique sales point. The hotel is very close to the city while being able to boost a tropical look (as if the guest traveled thousands of miles to reach a crystalline sea surrounded by the green)

Opportunity 2 (shopping mall – outlet mall)
Malls are declining due to the spread of online shopping.
Nonetheless, "outlet malls" remain in Japan a great opportunity for a 1-day escape in a landscaped themed environment. Very popular among families and couples they are great places to spend a day in a fully pedestrian high-security environment that offers possibilities of entertainment (events, luna park) and gourmet (café / restaurants) beyond shopping and brand shopping. Often they are appreciated as a relaxing place to have a stroll or meeting for a date.
Osaka dwellers use mostly the Outlet mall in Sanda (mountainside of Kobe) which has good highway access, large parking, and is linked with a regular shopping mall/supermarket.
This mall is operated by the Mitsubishi group. Another mall in Rinku town, very close to Kansai airport is not very popular but in recent
years has been recovering in sales thanks to tourists spending some time here between their flights.
The third Outlet mall (opened in 1999) is in Tarumi, it overlooks the sea and can be reached easily from Kobe via the normal road or by railway. On the other hand, the access from the highway is inconvenient and plagued by traffic jams as the route crosses densely populated residential areas.
The consideration is that an outlet mall in Yume-butai would combine the advantages of easy car access (even if it is further away from Osaka, it has the fastest transit time compared to the other locations) + the entertainment factor, being a holiday escape location and equipped with a large manmade lagoon that provides that "escape to Hawai" thrill.
Before Covid, Osaka experienced one of the largest increases in visitors (especially from Asian countries) who love shopping and the proximity to Osaka might turn Yume-butai into a destination to
spend one exciting day for many Asian tourists.
A shopping mall in Yume-butai will be able to leverage relatively cheap land and a large demographic of both residents and inbound tourists creating the premises for becoming one of the top 5 best-selling shopping malls in Japan.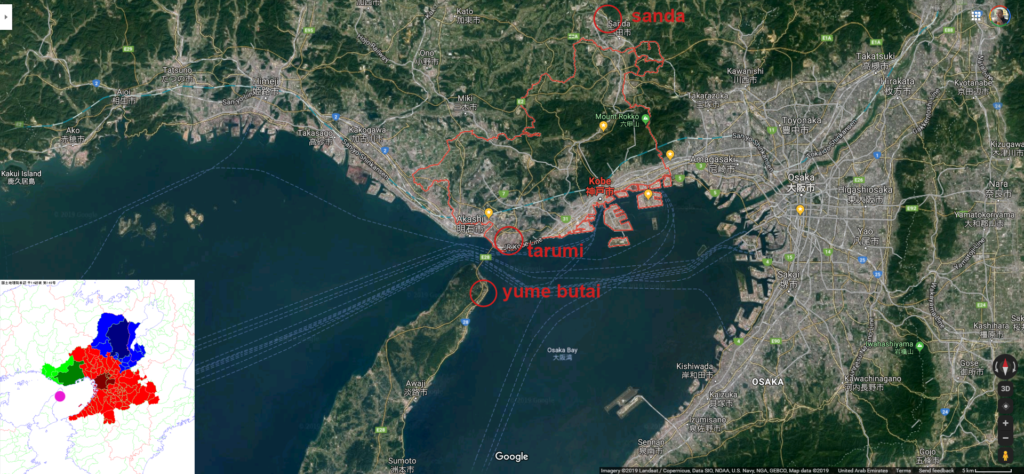 Comparison of Shopping malls in the area:
Mitsui outlet Marinepia (Tarumi)
Shopping area: 23,000 m2
Number of shops: 140
Opening: 10/1999
Yearly sales: 183 million USD
Visitors: 8 million/year
Ranking: 61st in Japan
Mitsubishi Premium outlet (Sanda)
Shopping area 42,200 m2
Number of shops: 224
Opening: 7/2007
Yearly sales: 561 million USD
Visitors: 21 million/year
Ranking: 8th in Japan
Awaji Sands
Shopping area: 38,000 m2+ roof terrace
Number of shops: 140 + roof
Opening target: 2027
Yearly sales target: 800 million USD
Visitors target: 35 million/year
Ranking target: 5th in Japan
TOP50 – Japanese shopping mall sales ranking(2018)
pos.
name
sales
growth
1
Narita International Airport
【Narita – Chiba pref.】
1432MLD
+14.9%
2
Lazona Kawasaki Plaza
【Kawasaki – Kanagawa pref.】
953 MLD
+0.7%
3
Gotemba premium Outlet
【Gotemba – Shizuoka pref.】
946 MLD
+4.0%
4
Lucua Osaka
【Umeda – Osaka】
841 MLD
+15.5%
5
LaLa Port TOKYO-BAY
【Funabashi – Chiba pref.】
787 MLD
+0.3%
6
Join us(excl. Takashimaya d.s.)
【Yokohama – Kanagawa pref.】
652 MLD
+3.8%
7
Mitsui Outlet Park Jazz Dream Nagashima
【Kuwana – Mie pref.】
572 MLD
+9.0%
8
Kobe Premium outlet
【Sanda – Hyogo pref.】
561 MLD
+4.0%
9
Terrace Mall Shonan
【Fujisawa – Kanagawa pref.】
551 MLD
+14.2%
10
LALAPORT EXPOCITY
【Suita – Osaka】
540 MLD
+1.5%
11
Mitsui Outlet Park Kisarazu
【Kisarazu- Chiba pref.】
539 MLD
+17.7%
12
Karuizawa Princes Shopping Plaza
【Kitasaku – Nagano pref.】
535 MLD
+4.6%
13位
ルミネエスト
【東京都新宿区】
501億円
+2.4%
14位
玉川高島屋SC
【東京都世田谷区】
496億円
-0.7%
15位
ルミネ新宿
【東京都新宿区】
492億円
+1.0%
16位
ららぽーと富士見
【埼玉県富士見市】
490億円
+5.2%
17位
ららぽーと横浜(イトーヨーカ堂除く)
【神奈川県横浜市】
467億円
-1.9%
17位
グランフロント大阪ショップ&レストラン
【大阪府大阪市】
467億円
-1.3%
19位
阪急西宮ガーデンズ(阪急百貨店、イズミヤ、シネマ除く)
【兵庫県西宮市】
448億円
+1.4%
20位
東京ソラマチ
【東京都墨田区】
430億円
+3.6%
21位
あべのキューズモール(イトーヨーカ堂除く)
【大阪府大阪市】
428億円
+2.1%
22位
りんくうプレミアム・アウトレット
【大阪府泉佐野市】
426億円
-2.0%
23位
佐野プレミアム・アウトレット
【栃木県佐野市】
420億円
+2.0%
24位
アミュプラザ博多
【福岡県福岡市】
416億円
+1.5%
25位
二子玉川ライズ・ショッピングセンター
【東京都世田谷区】
415億円
+0.8%
26位
アーバンドックららぽーと豊洲
【東京都江東区】
404億円
+2.3%
27位
ルミネ大宮
【埼玉県さいたま市】
403億円
-1.8%
28位
札幌ステラプレス
【北海道札幌市】
403億円
+0.3%
29位
エスパル仙台
【宮城県仙台市】
390億円
-0.1%
30位
北千住マルイ
【東京都足立区】
387億円
+3.8%
31位
コクーンシティ(ヨドバシカメラ除く)
【埼玉県さいたま市】
382億円
+1.1%
32位
ららぽーと海老名
【神奈川県海老名市】
380億円
+3.5%
33位
ルミネ立川
【東京都立川市】
376億円
0.0%
34位
トレッサ横浜
【神奈川県横浜市】
376億円
+0.3%
35位
天王寺ミオ
【大阪府大阪市】
372億円
+4.8%
36位
モゾ・ワンダーシティ(イオン除く)
【愛知県名古屋市】
366億円
+3.4%
37位
三井アウトレットパーク入間
【埼玉県入間市】
357億円
+1.4%
38位
阪急三番街
【大阪府大阪市】
355億円
+4.0%
39位
イーアスつくば
【茨城県つくば市】
352億円
+0.6%
40位
三井アウトレットパーク滋賀竜王
【滋賀県蒲生郡竜王町】
348億円
-3.1%
41位
名古屋パルコ
【愛知県名古屋市】
342億円
-1.2%
42位
サンシャインシティ
【東京都豊島区】
338億円
43位
なんばシティ
【大阪府大阪市】
338億円
+1.7%
44位
ルミネ横浜
【神奈川県横浜市】
322億円
-0.1%
45位
ルミネ北千住
【東京都足立区】
320億円
+2.5%
46位
鳥栖プレミアム・アウトレット
【佐賀県鳥栖市】
320億円
+2.0%
47位
ららぽーと立川立飛
【東京都立川市】
315億円
+7.9%
48位
ららぽーと湘南平塚
【神奈川県平塚市】
312億円
+2.3%
49位
酒々井プレミアム・アウトレット
【千葉県酒々井町】
311億円
+13.0%
50位
ららぽーと和泉
【大阪府和泉市】
302億円
+0.3%